Celebrated in style in Hong Kong with 74 guests and Consuls-General, including a crown cake and champagne toast.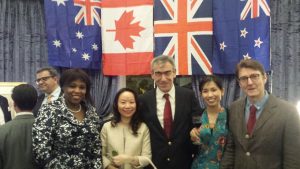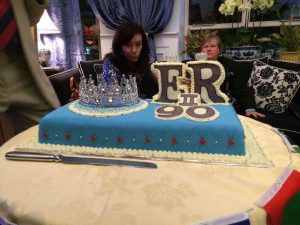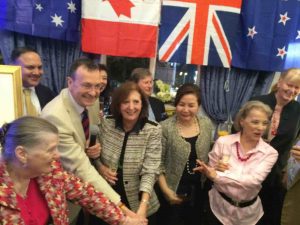 SPEECH OF MR. PETER MANN, THE CHAIRMAN OF THE RCS, HONG KONG BRANCH
Your Excellencies, Ladies and Gentlemen,
Today is the 90th birthday of her Majesty, the Queen. She is not only the longest-reigning monarch in British history but also the Head of the Commonwealth. Moreover, she is the Queen of Australia, Canada and New Zealand and 13 other countries.
She is a much loved and respected figure around the world and is well known for her capacity for hard work and her sense of duty. On her 21st birthday, she announced to the public: 'My whole life, whether it be long or short, shall be devoted to your service.' And it certainly has been. 
Apart from making 114 state visits over the last 63 years, receiving innumerable heads of state, opening hospitals and schools, she has connections with over 600 charities, professional bodies and public service organisations. The Queen has always taken a great interest in the Commonwealth and shared its core values of peace, democracy and equality. On Commonwealth Day this year she gave a speech which emphasized an 'inclusive' Commonwealth. 
What will the Queen do today? She will go for a walkabout in Windsor on a new trail called the Queen's Walkway, which links 63 points of interest (one for each year of her reign) and there is a plan to have 100 similar walkways throughout the Commonwealth by 2018. She has also started an initiative called the Queen's Commonwealth Canopy, a network of forest conservation areas, including Epping Forest and commitments from Singapore, New Zealand, Australia, Belize, Sri Lanka and Zambia. In the evening, she will light a beacon which will set in train a series of 900 beacons across the country and worldwide. 
I'm sure you would all like to wish the Queen a Happy 90th Birthday and Many Happy Returns (glasses/toast) Her Majesty the Queen!