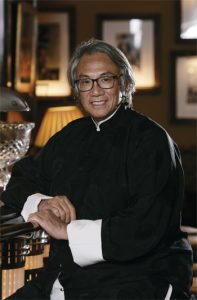 Royal Commonwealth Society, Hong Kong Branch is deeply saddened by the passing, aged 63, of our President, Sir David Tang.
Sir David was a great supporter of RCS over the years, generously providing hospitality at the China Club and recently addressing our Commonwealth Day Reception in March.
A successful businessman and philanthropist, and grandson of Sir Tang Shui-kin, Sir David was a flamboyant entrepreneur who founded fashion house Shanghai Tang and the unique China Club. Friend of the Royal Family, witty author and FT columnist, he was an art, cigar and wine connoisseur. A larger-than-life character, he was knighted by the Queen in 2008.
Sir David is survived by his mother and brother, his wife Lucy and a daughter and son from his first marriage.